A few weeks ago the wonderful folks at
Accuquilt
sent me one of their GO! baby fabric cutting systems and my choice of three dies to test out. Before I tell you about the machine, I need to tell you how wonderful their customer service has been. In today's world, good customer service isn't always easy to come by, and I have seriously been impressed with the service I've received from Accuquilt: quick response to my emails, lighting fast shipping of my cutter and dies, and even questions asked online through their site's online message system were answered very quickly. Ok, on to the Accuquilt GO! baby fabric cutter!
The three dies I chose were the 2", 3" and 5" hexagons, equilateral triangles (which coordinate with the hexagons), and the 3 1/2" tumbler. Today I'm going to show you how easy it is to use the Accuquilt GO! baby fabric cutter to make tumblers.
The GO! baby is small! It weighs about 8 pounds and, unopened, it measures roughly 4 1/2" x 9" so it's the perfect size to take with you to classes or retreats, and it won't take up much room in your sewing space, either. This baby runs on elbow grease, but it doesn't take much of it at all to get things moving. The handle that you see above moves everything through the machine and is very easy to turn.
For my project, I'm using some scraps of gorgeous fabric by my sweet friend
Jennifer Paganelli of Sis Boom
.
These are leftover from the box she gave me this summer
. And they've been sitting in that box in my studio so I ironed the wrinkled pieces before running them through the machine.
To use the cutter, place the die foam side up on the base of the machine and lay the fabric on top. If you look closely at the foam, you'll see an outline of the shape of the die. Be sure to place your fabric directly over those areas, because that's where the blades will make the cuts for your design.
Next, place the cutting mat on top of the fabric. Then turn the handle, which runs the mat and die through the machine, and...
voila! You've got tumblers! There may be a couple areas where the shape is still attached to the rest of the fabric by a few threads, so it's a good idea to keep a pair of sharp scissors nearby while you're working with the GO! baby fabric cutter.
And here's a closer look at how the tumbler looks after it's been cut.
I especially love that the corners are already sniped for you. This will make sewing them together a breeze and reduce the bulk in the seams. Pretty clever, right??
My little helper loved playing with the tumblers and laying them out on my design wall.
And you see that it didn't take any time at all for the tumblers to be cut with the GO! baby fabric cutter. I cut over 50 tumblers in less than 20 minutes. And that was with the help of a three year old, so I imagine it can be done in even less time, without a little one's assistance. ;)
You can also fussy cut with the Go! baby fabric cutter. Just be sure to line up your piece of fabric with the area that you want included in your final shape over the correct space on the foam die.
And each die comes with a free project idea, which I think is a great bonus. You can also get 22 free quilt patterns from Accuquilt's site just by clicking on the image below.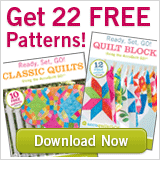 Check back here tomorrow to see what I make with my tumblers and be sure to stay tuned for your chance to win your very own Accuquilt GO! baby fabric cutter and your choice of three dies. That's right, I'll be giving away one here on my blog very soon!